Ranthambor: National Park

Location: Ranthambore National Park is situated in the state of Rajasthan, near the town of Sawai Madhopur, midway between Shekhawati and Kota townships.
Area: 1,334 sq km along with its adjoining sanctuaries - the Kaila Devi Sanctuary and the Mansingh Sanctuary
Best time to visit: The park is open for visitors from October to June. But the best season to visit Ranthambore is November to April. This is the time when animals can be easily spotted.

Ranthambore National Park is surrounded by the Vindhya and Aravali hill ranges and is very near to the outer fringes of the Thar Desert.

Tracts of the desert and semi-desert vegetation cover the entire park.

Ranthambore was originally a hunting ground of the Maharaja of Jaipur and was declared a game sanctuary in 1955. In 1980, it became a national park and was listed among the reserves protected under Project Tiger (1973).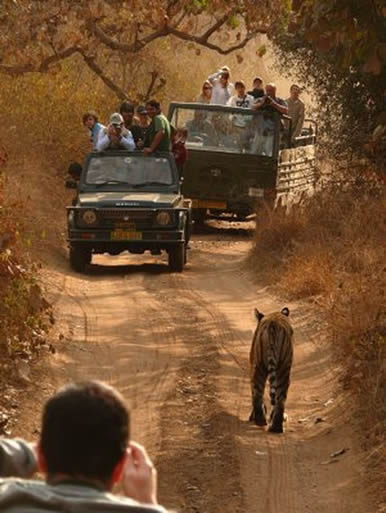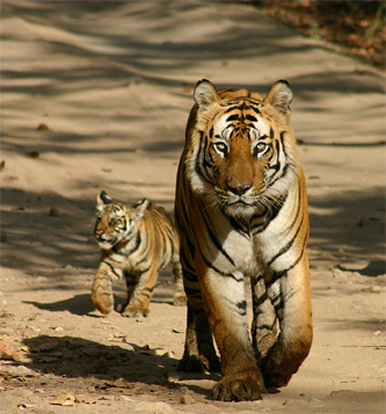 Sariska:Wildlife Sanctuary

Location : Sariska Wildlife sanctuary is located in the sharp cliffs of hills and narrow valleys of the Aravallis some 200 km from Delhi.

Area : DeThe sanctuary is spread over an area of 800 sq. km

Best time to visit : Sariska wildlife sanctuary can be visited throughout the year, still the best period is from October to June.

About the park Sariska is covered with dry deciduous forests and was declared as a sanctuary in 1955 and later a National park in 1979. The landscape is dominated with sharp cliffs of hills and narrow valleys of the Aravallis. The relics of medieval temples of Garh-Rajor, belonging to the 10th and 11th centuries are found in the Sariska Wildlife Sanctuary. Besides these, a 17th century castle on a sharp hilltop at Kankwari, provides a great view of flying Egyptian.
Keoladeo National Park, Bharatpur
Once royal hunting reserve of the princely family of Bharatpur today, it is one of the most breathtaking water bird sanctuaries in India.  Migratory birds flock here in July/August on the marshes and low lying trees.

They breed here till October/November. There are thorny babul trees, their tops above the water, holding the nests of thousands of birds that come here. The outstanding species are the open billed stock, painted stork, egret, pelican, ibis, cormorant, darter or snake-bird, spoonbill and grey hereon. There are exotic migrants from Afghanistan, Central Asia, Tibet as well as Grey lag Geese from Siberia, Siberian Cranes from the Arctic and Bar headed Geese from China